ABOUT NEW MATSUSAKA
-since 1956-
We serve the top class meals with the continued
spirit of OMONETASHI since 1956
Here is a beautiful Kobe Beef, fresh seafood and the various from all over Japan that is been selected in each season.
You will actually see many amazing dishes been cooked by great chef with the skillfull use their both of hand in front of you.
Inheriting the tradition of New Matsusaka Fuse(Main restaurant) since 1956 with New style of Umeda 32nd street which contain modern store with excellent view of Umeda.
Either restaurant have been inheriting traditional taste of food and hospitality since 1956. All the member of the staff will serve with heart of OMOTENASHI for you and you will spend the nice moment here.
New Matsusaka's are carefully handling selected the ingredients.
We are taking care of dialogue with our customers to aim for a high goal.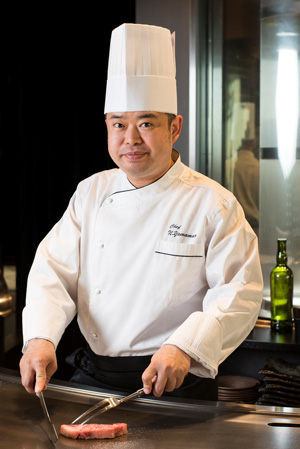 Tradition of New Matsuzaka that carefully handles selected ingredients.
I will aim for a higher goal, taking care of dialogue with customers.
In teppanyaki style you can talk directly with customers,
I have many tips from the conversation as well.
In order to be more satisfied, I take great care of the dialogue and are constantly pursuing every day.
Teppan-yaki is very important for simple cooking, the material's power to stand out.
I will never compromise.
Of course famous brands such as Kobe beef and Matsusaka beef,
We are focusing on cultivating new production areas in search of higher quality foodstuffs.
Recently, the production of safe, safe and high quality foodstuffs throughout the country is very active.
From brands of cows throughout the country that reflect the efforts of the community, it is also possible to meet surprisingly high quality items.
Also, the seasonal vegetables are rich in variety, and there are many things I'd like to introduce.
When you carefully baked such ingredients in front of customers and enjoy freshly made,
I feel that I am glad that you are doing this work.